Brooke Jacobs
Brooke has been an avid horse enthusiast her entire life. Her love of horses comes naturally, being the third generation on both sides of her family to own and show American Saddlebreds.

Brooke first sat on a horse at the age of 3 months and hasn't stopped riding since. She is the only five time member of the US Saddle Seat World Cup team where she has won three Gold Medals and two Silver Medals. She was also the high scoring rider in two of the World Cup competitions. Brooke has also been on 6 International Invitational teams that have competed in South Africa and the United States. Brooke has been asked to catch ride many horses for others as well.

Brooke has been awarded many honors in her riding career. In her juvenile years she was awarded the Frank Ogletree Youth Award, Horse World's Junior Exhibitor of the Year, the UPHA Maria Knight Scholarship, and in 1999 was the Pleasure Equitation Rider of the Year for all of the horse magazines. In 1999, her last year competing in the juvenile division, she won four World Championships and two Reserve World Championships at the KY State Fair, was Saddle and Bridle's Pleasure Equitation National Champion, and won the Gold Medal in the Pleasure Olympics. As an Amateur Brooke has made history. In addition to being named Amateur Of The Year she has also been the Adult Equitation rider of the year six times, been a two time Pleasure Olympics Adult National Champion, has won the UPHA Adult Challenge Cup National Championship, and is the only rider to win the USEF Adult Amateur Medal Final National Championship two times for which she is no longer eligible.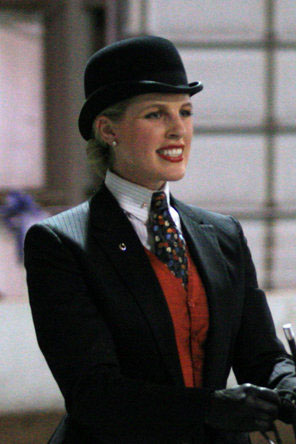 Brooke began taking photos at horse shows as a hobby during college but decided to take it up as a full time enterprise after graduating from Wake Forest University in Winston-Salem, NC in 2003. Since then her photos have graced the front covers of all of the national American Saddlebred publications, Hackney, and Morgan Publications. She is one of, if not the only person, to have an American Saddlebred photo of hers appear in the Wall Street Journal (2011).

Brooke has had a wonderful line up of horses and ponies starting with her very first Shetland Pony, Golden Girl, that was a gift from great friend Sissy Woolums. After Golden Girl, Brooke showed the following horses and ponies in 10 and Under Walk and Trot classes: Trixie, CH Choice Lady, Sweet Angel, Silent Spring, High Stakes Lady, and CH Magna Cum Laude. After 10 and Under classes Brooke showed the following American Saddlebreds in performance and equitation classes: CH Magna Cum Laude, CH Callaway's Blue Spirit, CH Bright Lights, CH Monster Man, her favorite CH Ramses, What About Bob, Callaway's Show Me When, CH Sky High Money, CH My Southern Charm, and CH Recoup.

Brooke has also achieved success in showing Hackney ponies starting with her wonderful RWC Arabesque (that is still living at the age of 29 at Werk Way), Texas Tommy, Dun Haven's Grandiose, Bristol Fashion, and Fit To Be Tide.

Brooke has been instructed her entire life by her father, Brent A. Jacobs, trainer at Werk Way Stables in Georgetown, KY and was also instructed by Lillian Shively at Delovely Farm in Rockport, IN for two years. Brooke has been supported by her mother, Jane, her entire life.