Jane Dulworth Jacobs
In the 1960s and 70s, no three sisters were better known in the horse show world than Jenny, Jane, and Joan Dulworth. They began their riding instruction at Rock Creek Stables in Louisville, Kentucky under the tutelage of Jane Howell Fleming and Jim B.Robertson. Jane's first mounts were the three gaited pony, Sugar Pop and the five gaited pony, Another Trouble. But it was in the three-gaited ladies and amateur ranks that Jane began to shine; first with the fine Tres Chic (CH Starheart's Janielynn) and later with the memorable CH.Aletha Stonewall. Under the instruction of Edward M. Teater, Jane and Aletha were a champion pair, gathering blue ribbons at top shows such as Rock Creek, Nashville, Montgomery, Lexington Junior League and Madison Square Garden. They were Reserve World's Champion Ladies Three Gaited Champion at the Kentucky State Fair in 1968 and Reserve World's Champion Amateur Three Gaited Under 15.2 in 1969. Jane also wrote a popular column, "Ribbons and Roses" for Horse World Magazine during this period.​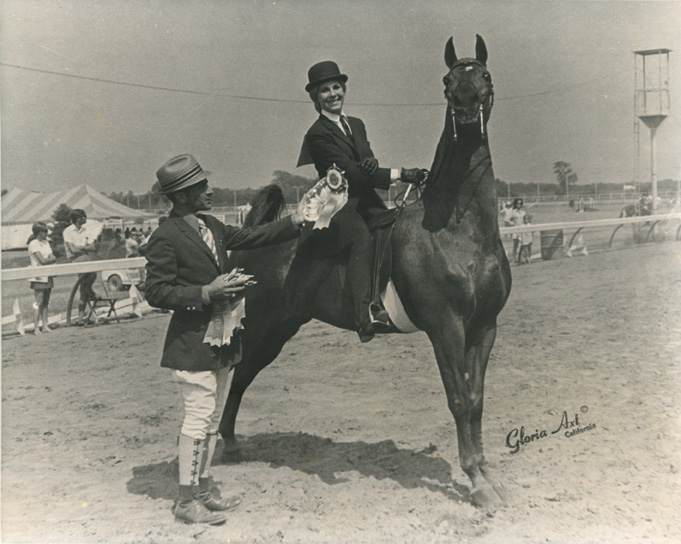 It was while attending Eastern Kentucky University that Jane began dating Brent Jacobs, Trainer at his family's Werk Way Stables in Georgetown, Kentucky. In 1974 Brent and Jane were married and soon after, Brent presented Jane with the three gaited Pleasure mare, CH Supreme's Choice Lady. Choice Lady was a small mare with a big heart. She and Jane swept the Three Gaited Adult Pleasure Classes in Ohio for six years in a row. They also won two World's Grand Championship titles in that division with three Adult World's Champion titles as well.
In 1980, Jane and Brent had a daughter, Brooke and they have watched and supported her showing horse since she entered her first Lead Line class at the age of 19 months. Since then, Brooke has amassed hundreds of ribbons, was twice named Horse World's People's Choice Junior Exhibitor, Amateur Exhibitor of the Year, on the 2002 World Cup Silver Metal Three Gaited team that competed in Robertson, Republic of South Africa, Captain of the 2004 Three Gaited World Cup Gold Metal team and was the leading scorer on the 2006 USA World Cup Republic of South Africa Gold Medal Team (Five Gaited Division) in Parys, Republic of South Africa. Brent and Jane have taken a total of 31 riders to three different Invitationals in three different areas of South Africa: Worcester, Parys and Uniondale.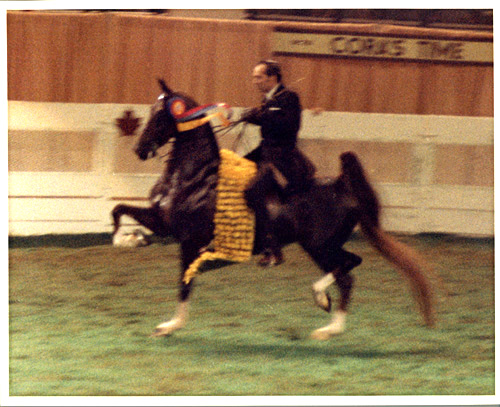 Jane has ridden, written about and has had a passion for horses for most of her life. In the 1980s, Jane picked up a camera and took a picture of Tom Moore and CH. Sultan's Starina making a victory pass at the World's Championships. That began Jane's entry into horse photography. Impressed by his wife's natural ability, Brent bought Jane a camera and it became her constant companion at horse shows. With the advice and help of Professional Photographer, Jamie Donaldson, Jane quickly learned and was on her way to becoming a first rate photographer.